Discover more from Roots and Branches
I'm as complicated as adoption. A once-upon-a-time daughter of an Air Force couple, I write on themes of separation, impermanence, loss, identity, original heritage, and the human right to our true stories.
Hello, and a Happy Weekend to you all,
Phil and I are home in Delaware after a brief trip to South Carolina to visit my paternal biological family. The main event was a country barbecue fundraiser to assist our brother's adult children with George's funeral expenses. He'd suffered a long illness, yet his death came as a shock to his family and his many friends. We gathered to support each other; our sadness was amplified by our sister, Teri's recent death after a chronic, progressive illness. George and Teri weren't much younger than me. Carol was between them, and Libby was born on April 1, 1951, six months before me, the half-sibling who searched and found them through a DNA search in my sixties. My siblings lost the father I never knew, first to alcohol and divorce, and finally to cancer at forty-six.
I was adopted by people with whom I had no genetic connection. My purpose was to give joy and comfort to a childless couple and to make my adoptive grandparents, aunts, and uncles proud. I secretly longed for my unknown, lost family.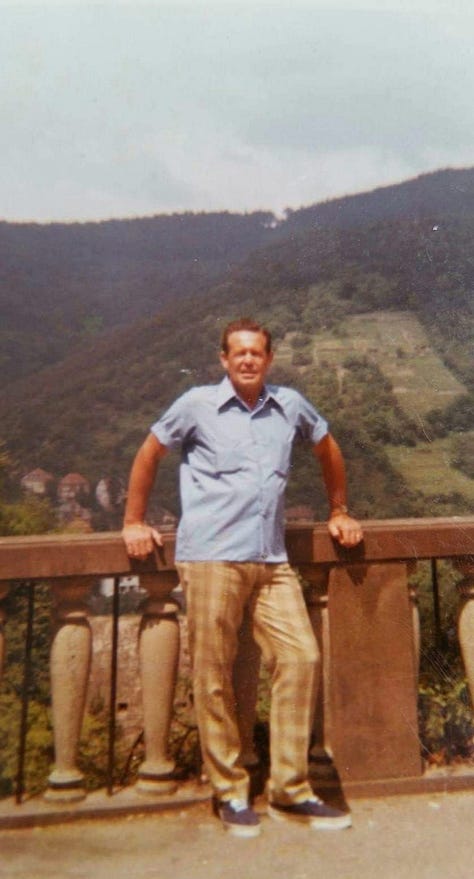 My adoptive family's moves and my school changes were all too frequent. While writing my book, I spoke with other military "brats", and heard their mixed feelings about family transience and change; both the broadening experiences and the disruption and loss. I heard how lack of permanence affected kids, the painful goodbyes, uncertainty, anxiety, and the broken bonds with every school transfer. I thought about my intense reaction to leaving friends and marveled at how my parents managed our moves and quarterly car and plane trips to visit New Jersey and New York City families. Back and forth, north and south. And they upped sticks for overseas without noticeable complaint, with me at age nine and my two-year-old adopted sister.
I was expected to be a super polite officer's daughter, smiling and posing, and compliant, without understanding who I was. Writing my book, I realized that I had grieved throughout childhood and adolescence and that no one acknowledged or recognized it. An adoptee with no genetic mirrors, in a military family where separation was the norm, I was surrounded by strangers all my young life. Everyone was, in a way, unfamiliar.
On this recent trip to South Carolina, we also visited with my first cousins on my father's side. The warmth of these occasions calls to mind how vital it is for adoptees to know our roots, and to share our happy and sad moments with our biological families--our blood relatives. Our humanity requires us to know our origins—where and from whom we came. When my daughter was born, when I was twenty, I still didn't have an inkling of who my birthmother was. I wouldn't know the name of the woman who gave me life until I was forty.
So, my feelings are both grateful and frustrated. It has taken me seventy-plus years to claim my original birth certificate from a State that still does not give adoptees full rights to our birth records. I'm grateful to have been embraced by the humans who are my living roots and branches.
---
Click here to read the other post I sent today: https://www.megam-author.com/p/a-quest-for-the-discovery-of-heritage
Your support of these pages, and of my memoir, I Must Have Wandered: an Adopted Air Force Daughter Recalls, means so much to me. I'd love to hear from you!
Who will enjoy my book?
My newly designed 2nd edition is now widely available in a beautiful softcover and e-book.
Readers of memoirs, lyrical prose, hybrid, and collage writing, epistolary, coming-of-age stories, and vignettes. If you were raised in an Air Force or another service family, are connected to the adoption community, social services, or adoptee-centered therapy, you just might find my book a useful and interesting read. Your review at your place of purchase is appreciated. Available at your choice of digital vendors.
Thanks for reading Roots and Branches. Subscribe for free to receive new posts and support my work.